Dan Houston has been an exceptional, award winning, contemporary artist for more than 40 years. His unique, contemporary pieces exhibited on this site consist of outstanding paintings, drawings, and sculptures intended for the serious devotee, collector and established interior designers representing their elite clientel. Abstract and realism drawings and paintings are in acrylics and mixed media.
---
Brazilian Rain Forest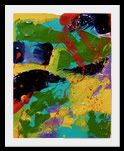 Dan Houston
"Lush colors of the rain forest with the variety of birds and plants,
the color of the sun upon the landscape in the morning,
the many textures of the trees and foliage"
---
ARCHITECTURAL WALL DECOR
Residental and Commerical Installations
(281) 770-2029